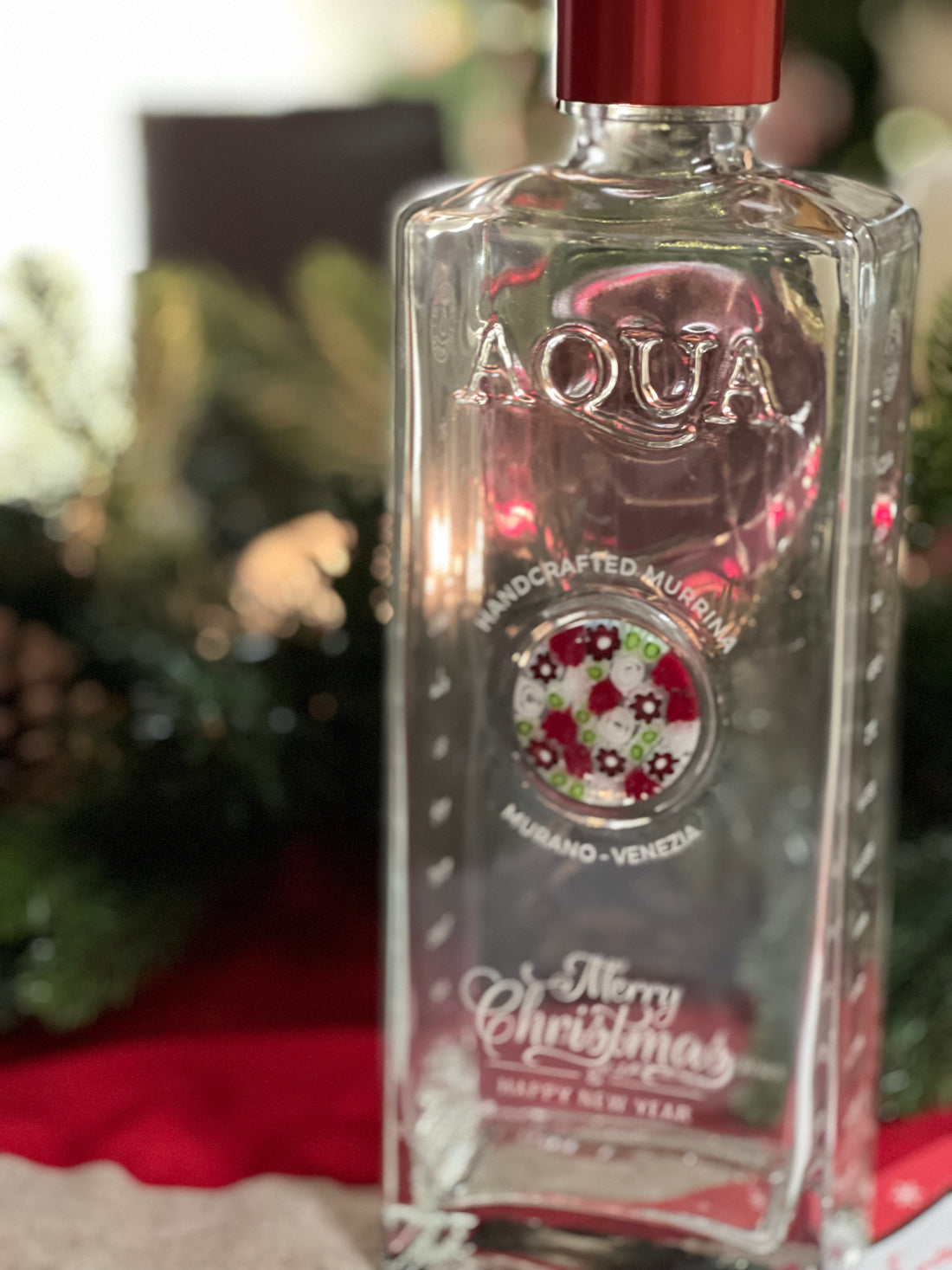 Murrina Glass of Murano - Merry Christmas
Unique Christmas-themed Glass Bottle with Murrine made individually by hand by the glass masters of the island of Murano.
How many Christmas decorations have you bought to enrich the Christmas table?
My AQUA Bottle is the only Christmas decoration that will surprise your guests and give a unique touch to your set table.

Each Murrina is a piece Unique in the world and comes from the skilful art of the millenary glass processing typical of the Venetian island.
MyAquaBottle combines the captivating and finely studied design with the craftsmanship precision of the decorations in Murano glass.
Every Original Murrina by Ercole Moretti is individually hand made and made with unique and exclusive colors and techniques of Az. Ercole Moretti, dating back to 1911 and handed down for over 100 years.
Every MyAquaBottle is assembled hand and can be decorated and customized as desired (with a minimum edition of 8 pieces)

MyAquaBottle it will be your elegant, helpful and long-lasting container for: 

microfiltered water on the table, both sparkling and natural
ideal replacement for horrible plastic bottles and containers of all kinds
healthy container of your herbal teas and any type of hot / cold drink
container of various objects, perfumes, shells, sugared almonds, chocolates. . . .  
Simple to clean and sanitize, easy to place in your fridge
 Here are some small tricks that will allow yours Aqua Bottle to last a long time without deteriorating the decorations.
Remove any unused water when you're done serving to prevent limescale and streaks.

To preserve its shine, just pour it into your own AquaBottle 1lt of hot water with a dissolved teaspoon of bicarbonate or, alternatively, 1 glass of White Vinegar.

With these simple steps yours Aqua Bottle will continue to shine generating those luminous transparencies ofart, water and glass, "Genius Loci" of the most beautiful city in the world, Venice.
Tips
practical for internal cleaning:

In order to avoid the formation of bacteria and internal limestone that takes away the shine, yes
recommends:

- frequent water changes.

- a manual wash a week with hot water and 1 tablespoon of baking soda
or hot water and 1 glass of white vinegar.
Material: Extra-Flint tempered glass
Capacity: 1 liter
Weight: 900 grams
Max pressure: 4 Bar
Wide mouth hole: 2,8 cm
Material Plug: Aluminum with gasket
waterproof.
Measures: h 27,2 cm – l 9,8 cm – p 5,9 cm
Peso Packaging: (no plastic) 370 grammi